NurseThink® for Students:
NCLEX-RN® Conceptual Review Guide
Clinical-Based for Next Gen Learning
The NCLEX-RN® Conceptual Review Guide is a one-of-a-kind tool that prepares the student for NCLEX® by taking them to the bedside. Every page of the book is packed with the clinical practice essential to developing the clinical judgment needed for passing NCLEX® the first time. Through this conceptual process, students will learn more about the NCLEX® exam—what it looks like, what it measures, and how it is scored—which in turn will prepare them for success on the exam.
Paperback ISBN: 978-0-9987347-4-3
eBook ISBN: 978-0-9987347-5-0
Buy Now keyboard_arrow_right
Buy Kindle Version Now keyboard_arrow_right
Adopt Now keyboard_arrow_right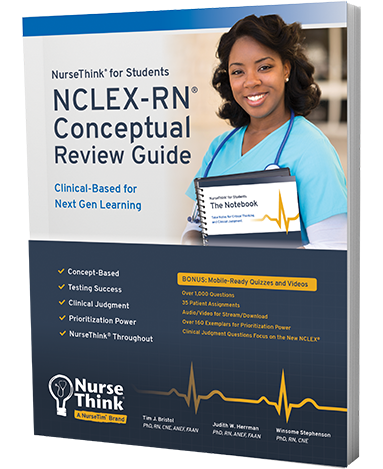 OClinical-Based Next Gen Learning
Over 1,000 mobile-ready questions
Audio/Video mobile-ready stream and download
Over 160 exemplars for prioritization power
Clinical Judgment questions focus on the new NCLEX®
30 patient assignments
Next Generation NCLEX® Activities
BONUS: Mobile-ready quizzes and videos included with the book access code
See the inside of your book for instructions on how to access online resources.