NurseThink® for Students:
NCLEX-RN® Conceptual Review Guide
Clinical-Based for Next Gen Learning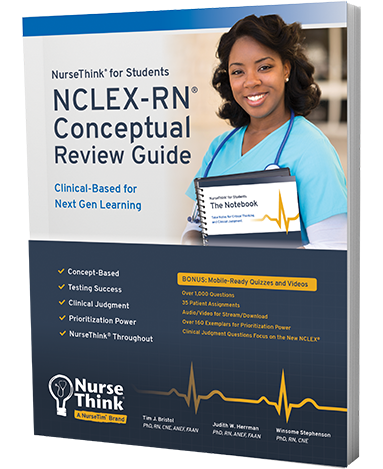 This conceptual NCLEX-RN® review guide is a one-of-a-kind tool that prepares the student for NCLEX by taking them to the BEDSIDE. Every page of the book is packed with the clinical practice essential to developing the clinical judgment needed for passing NCLEX® the first time. Through this conceptual process, you will know more about the exam—what it looks like, what it measures, and how it is scored—which in turn will prepare you for success on the exam.
This conceptual NCLEX-RN® review guide includes:
Over 1,000 mobile-ready questions
Audio/Video mobile-ready stream and download
Over 160 exemplars for prioritization power
Clinical Judgment questions focus on the new NCLEX®
30 patient assignments
Next Generation NCLEX® Activities
BONUS: Mobile-ready quizzes and videos included with the book access code
See the inside of your book for instructions on how to access online resources.
Contact us for more information about adopting this resource as a required text at your school.
Paperback ISBN: 978-0-9987347-4-3
eBook ISBN: 978-0-9987347-5-0
Buy Now
Buy Kindle Version Now
Contact Us About Adoption